Nursing Assistant Program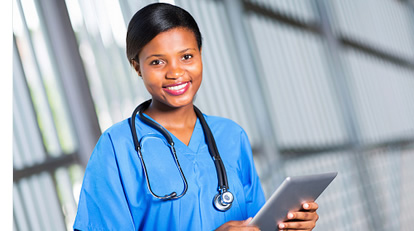 This program meets Maryland State and Federal curriculum requirements for nursing assistant certification. Once certified, graduates are eligible for employment in hospitals, clinics, retirement/assisted living facilities, adult family homes, and in-home health care. In addition, graduates are eligible to take the Geriatric Nursing Examination to become Geriatric Nursing Assistants (GNA) in order to work in a Nursing Home or Long-Term Care Facility.
Our students gain knowledge and learn skills caring for patients of various age groups during acute and chronic stages of diseases, surgery, and rehabilitation, as well as how to maintain health during the normal aging process. Nursing Assistants work under the supervision of a licensed nurse and provide assistance to patients with daily living tasks.
Working closely with patients, Nursing Assistants are responsible for basic care services such as bathing, grooming and feeding patients, assisting nurses with medical equipment, and checking patient vital signs. Nursing Assistants give patients important social and emotional support and also provide vital information on patient conditions to nurses. Being a Certified Nursing Assistant can be an absolute stepping stone for becoming a Licensed Practical Nursing (LPN) or Registered Nurse (RN). Experience and daily interactions with other licensed nurses demonstrates that: "The best LPNs / RNs started as Certified Nursing Assistants".
Nursing assistants not only earn an honest living but become emotionally gratified at the end of the day for the opportunity to promoting health and assisting patients with daily living tasks. The demands for well-trained nursing assistants are on the rise—take that critical first step and get a profession now.