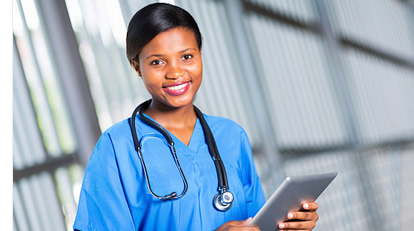 Morning Star Academy has been teaching Certified Nurse Assistant Courses for over nine years and has helped hundreds of students, some young and not so young, to a rewarding career in the healthcare nursing field. If you are looking for a rewarding career in healthcare and helping others, we welcome you to look through the information here and consider becoming a Certified Nurse Assistant in as little as 30 days. Also, if you're interested in becoming a Geriatric Nurse Assistant (GNA), call us for more  information about becoming a Geriatric Nurse Assistant (GNA) and the requirements needed to obtain a GNA certification and start your new GNA career. Our program meets or exceeds all Maryland State and Federal curriculum requirements for nurse assistant certification (to be a CNA). Federal law requires that anyone planning to work as a nurse assistant in a long-term care facility must complete required training, pass a state competency examination, and be placed on a state Nurse Aide Registry. Depending upon the state, a Nurse Assistant may be referred to as a Certified Nurse Assistant (CNA), a Nurse Aide (NA), Geriatric Nursing Assistant (GNA), a Licensed Nurse Assistant (LNA) or a similar title.

Open a world of new employment opportunities as a Certified Nurse Assistant (CNA)
Once you become certified as a Nurse Assistant, you will be eligible for employment to work in hospitals, medical clinics, retirement/assisted living facilities, adult family homes, and in-home health care.

Classes
We have day and evening classes. New classes are forming as other classes are completing. Call us at (301) 977-7393 for up-to-date class information and answers to other questions you may have. We are here to serve you and help you succeed. We are friendly, caring, professional, and expert in training our students for success!

What you will learn
As a student of Morning Star Academy, you will gain knowledge and learn skills caring for patients of various age groups during acute and chronic stages of diseases, surgery, and rehabilitation, as well as learn how to maintain their health during the normal aging process. One of our certified and caring instructors will take you systematically through the required course material as well as intermixing it with actual hands-on practice of taking vital signs and other important skills so you will feel and be confidently prepared after completing the course. We will even discuss with you about the actual transitioning from student to become a trustful, competent, and proactive nursing care team member.

Course curriculum and training
The following list give you a snapshot of what is included in the Certified Nurse Assistant course curriculum and what you can expect to learn:
CPR*, First Aid, and AED** usage

*CPR is short for "cardiopulmonary resuscitation"

** AED is short for "automated external defibrillator"

Taking and recording vital signs

Infection Control

Assisting with Range of motion exercises

Personal care skills, such as bathing, dressing, grooming, and assisting with feeding and toileting

Range of Motion exercises

Positioning and transferring

Becoming a valuable and adaptable employee

Teamwork, communication and workplace diversity skills

The art of caregiving

Legal and ethical aspects of healthcare

Caring for people with dementia and other conditions

Special care instructions

Proper lifting and care instructions

Protecting your patients and yourself

Promoting safety

Other important knowledge and skills necessary to be a successful Nurse Assistant, CNA

Transitioning from student to certified team staff member

Ways you will learn
During your classes we will keep it interesting and help to keep you engaged so you can easily absorb the material for the exam as well as for actual life/work application. Part of your training you will use dummies (manikins), medical equipment for taking vital signs. Part of your training will include instructor class training, question and answer time, and individual one-on-one student/teacher engagement. In addition to all of the above, as you progress in your 4-week training, you and your classmates will spend some time in a real-world environment at a nursing/rehabilitation facility in clinical rotations and in actual practice providing personal care.
We want to do all we can to keep it fun and interesting and get the information into you so you easily take and pass the written licensing exam and develop the knowledge and skills and be ready to perform at your best as we send you off to begin your new career in healthcare.

Tools & equipment you will use during the class
We have all the necessary tools and equipment for all students to use during the entire duration of classes including all nursing assistant skills videos.

What you will do upon entering this important dynamic field
In addition to working a steady job and getting paid, as a Nursing Assistant you will work under the supervision of a licensed nurse ((registered nurse (RN) or licensed practical nurse (LPN)) and will provide assistance to patients with daily living tasks in their time of need. Whether the patient has been in a serious accident or had some major injury or assisting someone who has lived a full life and now needs some basic support and/or assistance that they didn't used to need and you can have an integral part by providing this much needed loving care.

Care you will provide
Working closely with patients as a Certified Nurse Assistant (CNA) you will be responsible for basic care services such as bathing, grooming and feeding of patients, assisting nurses with medical equipment, and checking patient vital signs. As a Nurse Assistant, you give patients important social and emotional support and you also provide vital information on patient conditions to nurses. Being a Certified Nurse Assistant can be an important stepping stone for becoming a Licensed Practical Nursing (LPN) or Registered Nurse (RN). Experience and daily interactions with other licensed nurses demonstrates that: "The best LPNs / RNs started as Certified Nursing Assistants".

How you will benefit
In addition to earning a steady paycheck by helping others in their time of need, you can experience emotional gratification at the end of the day for the opportunity to promote health and assisting patients with their daily living tasks. Also, as our society ages, the demands for well-trained, qualified nursing assistants are rising, which means that your Certified Nurse Assistant skills and certification will help create job security for you as you serve and benefit others — take that critical first step and get started to a new and rewarding profession today!

Course fee Includes
Your Certified Nurse Assistant CNA course includes the following:
Course Textbook

Student handbook

All Skill Supplies needed for the class

2-year certification in Adult CPR First aid, and AED usage

Classroom instruction taught by Registered Nurses

Hands-on clinical experience at a local long-term care facility

Review day to prepare for state competency exam, including mock test and skills practice

Job Fair with local employers

Tutoring as needed before/after classes]

Graduation ceremony with Morning Star Academy CNA training certificate

Natural potential career path steps
Becoming a Certified Nurse Assistant (CNA) can be a natural first step for you in the medical care field. Whether you are only interested in being a CNA and want to stop there and enjoy hands-on working with people without the pressure and worry of many extra responsibilities or you want to grow and rise to further advancement and responsibilities and income, becoming a CNA is a great beneficial first-step toward a career in nursing, clinical work, and a host of other medically-related positions in the growing and profitable healthcare industry. And it is a great way to earn some extra cash as you study and work your way toward your longer-term goal. The experience you gain by starting here will be priceless.

Why train at Morning Star Academy
Our students are prepared to provide culturally sensitive care to diverse populations within the community and beyond. The curriculum emphasizes on basic health care, patient education, health promotion, restoration, and self-care as outlined in the curriculum guidelines approved by Maryland Board of Nursing.
Always remember: "OUR ULTIMATE GOAL IS TO HELP YOU SUCCEED"

What to expect after completing the course
Once you complete your Certified Nurse Assistant training, you should be well equipped to take and pass the State of Maryland licensing exams and skills test to become geriatric nursing assistant (GNA) to work in a long-term care facility . The next step then, of course, is to take them. We will provide to you the information regarding the times and dates for the GNA testing. The good news is that, we an approved in-facility GNA testing site for our students. For this reason, the fear or anxiety of taking the exam in an unfamiliar testing environment is completely avoided.
Assistance with Nursing Assistant Certification online with Maryland Board of Nursing

Your course completion Achievement Award

The opportunity to meet with potential employers

Assistance and recommendations for employment at long-term care facilities upon passing the GNA exam.
Here is a list of important things to remember and to bring as you head out to take your exams:
Two forms valid government issued photo ID

A letter from the Testing Company such as Pearson VUE

Arrive at the testing facility at least 30 minutes prior to your scheduled appointment

Be sure to set aside the entire day for your tests and it may not be possible for the facility to accommodate special schedule requests (such as needing to leave early or before you are finished)

Wear scrubs or a uniform as well as supportive non-skid shoes, and a watch with a second hand

Bring snacks, #2 pencils, pens, (blue or black ink), a lunch as well as any prescribed daily medicines that you might need during the day

Test results
You may receive your test results on the day of your exams. However, this can vary from one testing facility to another. We may be able to provide more up-to-date information of what to expect from some of the testing facilities as that time comes closer. But don't be surprised if the results aren't available until a later date.